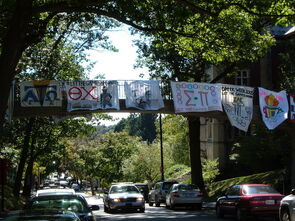 The Earle Bridge, named in honor of President Ralph Earle, was completed soon after Alden Memorial to provide access between the east and west sides of the campus. A dream of Earle's, a bridge was discussed as early as 1926 with plans developed by the civil engineering department. Contributors, however, were concerned with the lack of a tangible objective at the west side of the span. The project was set aside until the decision for an auditorium was finalized. The auditorium's north entrance was perfectly situated for a continuation of Boynton Hall's walkway which would bring it past the front steps of the new structure. Completed for the 75th anniversary of the Institute, the bridge was built with a 14-foot clearance at the apex, necessitating steps on the west side. The bridge also required a retaining wall to maintain the present elevation. Sponsored by Paul B. Morgan '90, the construction of the bridge fulfilled President Earle's dream and was the perfect cap to his campus expansion program.
It is a tradition of the campus to have the incoming freshmen class walk over the bridge before the start of A-Term. This event, run by the Student Alumni Society (SAS), is where they recieve their Tech Bibles and Freshmen Beanies.
Earle Bridge was prominently featured in the 1950's WPI recruitment film Bridge to the Future.