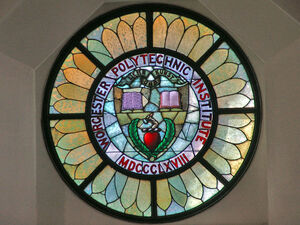 The official WPI Seal features many symbols relating to the university and Worcester. Its use is highly restricted in university publications and applications. A modified seal, seen on many university publications and letterheads, is always accompanied by the letters "WPI," while the official seal stands alone, only used in communications of a presidential nature.
The date of founding (1865) in Roman numerals. The modified seal uses Arabic numerals.
The university motto, lehr und kunst
The heart from the City of Worcester crest, symbolizing Worcester as the "Heart of the Commonwealth" of Massachusetts
Two open books, representing "theory"
The arm and hammer from Washburn Shops, representing "practice"
The need for a seal was first identified as early as 1884. Professor Alonzo S. Kimball's design was among many submitted by students, and his was ultimately chosen and adopted in June, 1888.
External Links